Wednesday, February 8th, 2017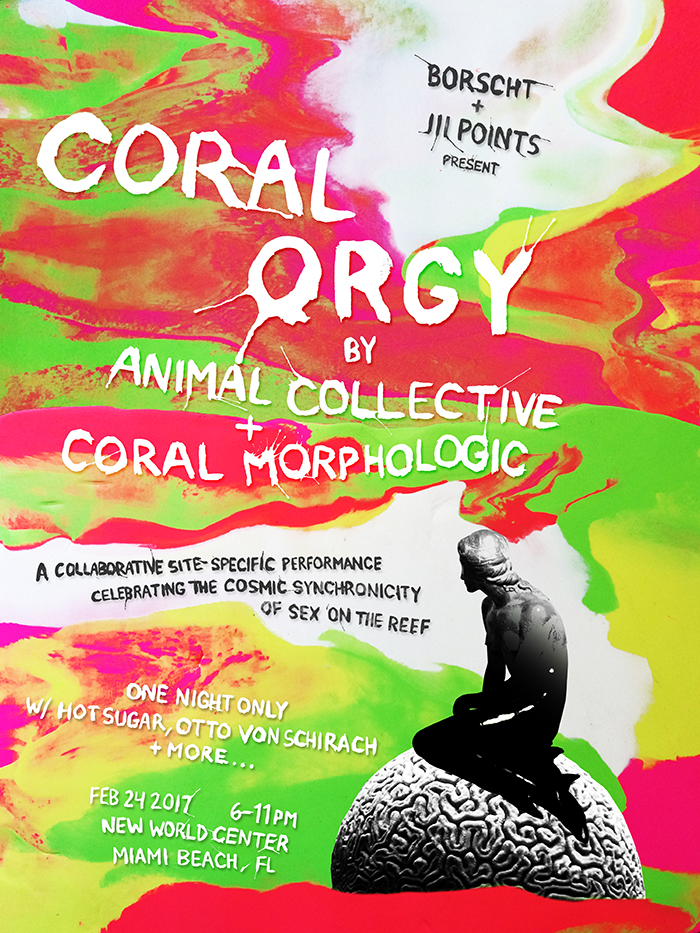 On February 24th 2017, Coral Morphologic, Borscht Corp., and III Points present 'Coral Orgy', a collaborative site specific performance with Animal Collective at the Frank Gehry-designed New World Center on Miami Beach as part of the 10th Borscht Film Festival (Borscht Diez). 'Coral Orgy' is an audiovisual meditation on the secrets behind the sexual reproduction of corals, and an invocation towards the human quest of unlocking them. Animal Collective will perform an hour of new music inspired by the reefs while Coral Morphologic projects a cosmic world of fluorescent coral inside the Frank Gehry-designed New World Center performance using its twelve 4k projectors to map all five of Gehry's sails. The audience is free to explore various experiences throughout the building, including a Bermuda triangle ritual by Otto von Schirach, screenings of short films, new virtual, augmented, aural, and physical realities by Hot Sugar, Mayer\Leyva, and more. Before the performance Coral Morphologic films will play outside on the 7,000 square foot projection wall in Soundscape Park. 
Tickets on sale Tuesday, February 7th via https://coralorgy.frontgatetickets.com
Through this event, Coral Morphologic and Animal Collective aim to highlight the groundbreaking scientific work done on coral reproduction by the non-profits Coral Restoration Foundation (USA), SECORE (GER), and Project Coral (UK).