Thursday, November 25th, 2010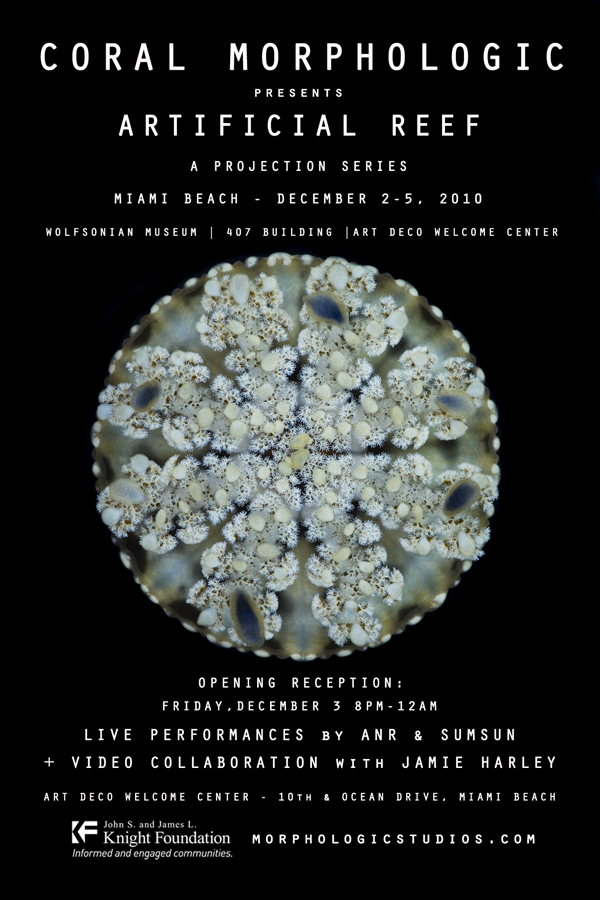 We are infinitely excited to announce our first public art project: Artificial Reef, a nightly projection series showcasing local coral reef-life in massive scale on prominent buildings across Miami Beach from December second to the fifth. The concrete used in constructing these buildings is largely composed of the pulverized fossils of coral and marine life that once colonized South Florida when submerged in millennia past. The Artificial Reef projections will "encrust" and "colonize" the Wolfsonian Museum, the 407 Building, and the Art Deco Welcome Center facades like rocks of the reef. Artificial Reef has been made possible by a generous grant from the Knight Foundation.
During the week/end we will have an accompanying solo show of of our multi-media works at the Art Deco Welcome Center. Video loops, photography and projections will be shown. The opening reception for Artificial Reef will take place at the Art Deco Welcome Center on Friday, December 3rd from 8PM – 12AM. We are additionally psyched to host special live "soundscape" performances by ANR and Sumsun during the reception, with an accompanying collage of our Natural History films curated and affected by video artist Jamie Harley. The video collaboration will be projected onto the bands as they perform. We will have complimentary Prestige beer at the reception.