Thursday, May 21st, 2015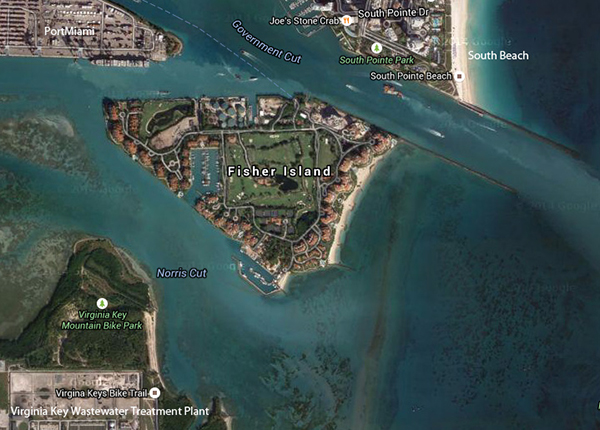 Fisher Island, Government & Norris Cuts
A Nursery Solution:
The Deep Dredge of Government Cut has caused significant coral stress and mortality on the corals and reefs in and around Miami… including wide areas that the Army Corps predicted would not be affected. In particular, the dredging at PortMiami has resulted in vast sediment plumes that arc around the south-side of Fisher Island and out through Norris Cut where federally protected elkhorn corals are suffering.
As mitigation against this coral die-off and stress, Coral Morphologic proposes the construction of an 'urban coral research nursery' along the edge of South Pointe Park where the public can be directly engaged with the marine ecosystem of Miami. This coral nursery will be built primarily to house and grow fragments from the variety of Acropora corals living around Fisher Island. The coral nursery will be a proactive mitigation response to a shameful coral transplantation effort on Fisher Island and the siltation-related mortality of coral around Miami.
In order to test the resilience of these Fisher Island Acropora corals, it is imperative that these colonies are grown and cloned into as many individual colonies as possible. Not only will this allow for exhaustive in-situ research projects, but it will also result in additional fragments useful for restoring reefs around Miami after the Deep Dredge is completed. Because the Fisher Island Acropora corals are so unique, the only way to properly test their resilience is to fragment them repeatedly over time to create enough cloned test subjects. Because the hybrid Acropora corals are not conferred federal protection, their clones are ideally suited for life in educational public aquarium reef displays around the globe where they will become fluorescent icons of adaptation and resilience for both Miami and coral-kind.
Coral Morphologic proposes that such a coral nursery should be deployed just inside Government Cut along South Pointe Park which provides ideal water conditions for growing all of the Miami's 'urban coral' species; especially the Fisher Island Acropora corals. The South Pointe coral nursery will provide coral biologists with a low-cost, easily-accessible platform in which to pursue unique coral research projects that only Miami affords. Close access to land-based electrical and internet infrastructure will allow an array of tools that offshore nurseries can't count on such as 24/7 live streaming underwater web cameras, flow meters, and water chemistry monitoring probes. A continuous stream of open-access data on the water quality moving into and out of Biscayne Bay with every tide will be necessary to provide the City with the most accurate information possible in which to predict future sea level rise and pollution. Furthermore, the addition of interactive signage will engage and educate citizens and tourists about the overlooked marine ecology of Miami Beach.
This coral nursery project will cost in the tens of thousands of dollars and require a long list of permits and permissions from agencies at the city, county, state, and federal level. While the levels of bureaucratic protection for corals are meant to be helpful, it also presents considerable roadblocks for those wishing to cultivate them for restoration and research. While an initial $10,000 Accelerator Grant from the Miami Foundation has kickstarted the planning process in earnest, we will be requiring more grant funding and donations to complete the project. Tax-deductible donations can be made to the project via the Coral Morphologic Fund managed by the Miami Foundation. We look forward to updating everyone on this project as we move forward to grow the rare and resilient 'urban corals' of Miami and Fisher Island!