Monday, October 19th, 2009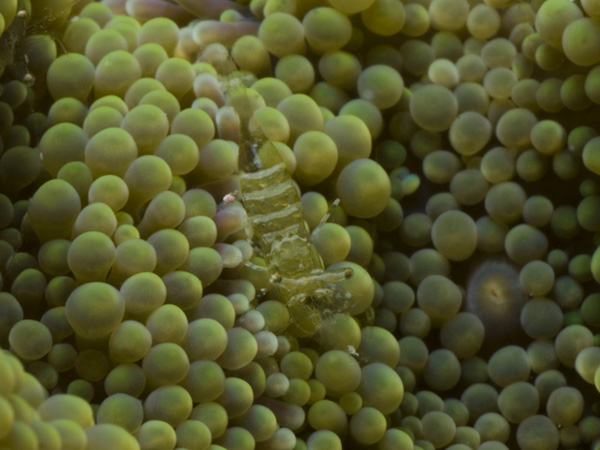 Pictured above is a very tiny (10mm) shrimp that lives commensally with Ricordea florida polyps.
Over the past several years I have occasionally encountered fleeting glimpses of tiny shrimp that live amongst the pseudo-tentacles of Ricordea florida.  On all the previous occasions that encountered one, I had never been properly equipped with a super-macro camera  kit. A dive this past September finally warranted a good photo.   Ricordea shrimp are tiny (8-12mm) and nearly transparent, making them very difficult to detect.  It is unlikely that these might be juveniles of a more common commensal species (e.g. Periclimenes pedersoni, P. rathbunae, or P. yucatanicus), as it is clear from the photo above (and from recently collected specimens) that they are mature egg-bearing females at this small size. If you look closely at the photo, you'll notice in the upper left-hand side of the photo that there is another pair of eyes.  At the time of the photo I didn't notice that there were several other tiny and completely clear shrimp living with this female.  It was only while viewing the photos close-up that I noticed these other shrimp.   Most likely they are male or juvenile females living colonially.  On subsequent dive trips I have found several groups (3-5) of these tiny shrimp all living on the same R. florida colony.
Today we are sending off a preserved specimen to Periclemines shrimp expert Dr. Stephen Spotte for taxonomic inspection.  He will be able to determine whether this shrimp has been previously identified, or whether we are dealing with a new species altogether.