Thursday, July 17th, 2008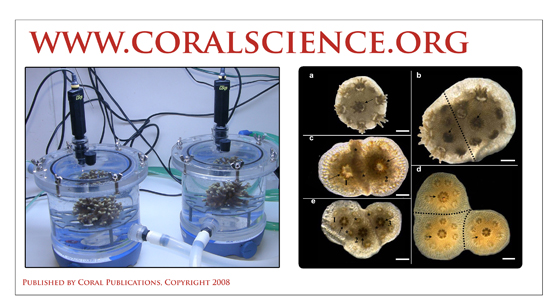 Recently, we have been in correspondence with Tim Wijgerde, founder of coralscience.org. Coral Science is an information portal to all types of research, news, and science related to corals, reefs, and associated fields, with an emphasis on making "scientific research" accessible to a wide audience. We think that this an exceptional idea. In effect, Tim has started a platform where curious reef aquarists, divers, students, and researchers can all gather information in one convenient location. Here is a brief interview with Tim, where in his own words, he elaborates on his vision for Coral Science:
Q: What is your intention with coralscience.org?
A: Well, the history of the Coral Science project is very recent. Being
both a biologist and a reef enthusiast myself, I have seen how both worlds
operate and overlap. I began to realize that the scientific community and
aquarists worldwide had a lot to learn from one another, because there is
little communication between the two groups. Scientists busy themselves
with their own research, often not taking the time to write popular-scientific articles. On the other hand, reefers out there really would like to know about coral science, but simply lack the capabilities to get to the information. Scientific papers are published on-line and in scientific magazines, resources which are either unknown to aquarists, or too difficult to read. Furthermore, access to on-line articles is quite
expensive; the average scientific paper will cost you 25-30 USD.
That's when it hit me; why not set up a website with articles about coral
and ocean related scientific information, which is up-to-date, relatively
easy to read and of course, free. As of yet, we already established warm
contacts with several academics from the field of marine and coral
biology. This we mainly accomplished by means of our own network, because of the fact that some of us are academics as well.
Q: How often do you publish new articles?
A: We try to publish articles on a regular basis. We aim to provide new
content about three times a week. This can be a small "Did you know…"
factoid, or a full-length scientific article. Our main obstacle still is
finding the right authors. We have a small team able and willing to write
these articles, but we need more people from the academic community to
provide a constant stream of content, as our time is limited. We are now
talking to several scientists active in various biological disciplines to
increase future content.
Q: How do you fund this project?
A: I initially set up this website funding it from my own pocket. I
quickly realized that I needed to professionalize this idea, so I created
my own company around it; Coral Publications. This company is now
officially publishing the coralscience.org website, and we try to generate
income by running advertisements. Companies with a focus on science, the
oceans, diving, traveling and such are invited to sponsor us. Additionally, we hope that readers who visit the site regularly will start making
small donations to support our cause. We have a paypal link on our
homepage through which people can easily make small contributions. The
money which we hope to raise in the future will be spent on server hosting
and authorship honoraries.
Q: Given its title, I assume the website will only address coral-related
subjects?
A: Well, not entirely. We also publish articles on reef fish, climate
change and technologies emanating from the field of coral biology, to name a few. Our site tries to communicate science related to the oceans and its ecosystems. As of yet, our focus has been corals, but we hope to bring our readers more articles on other topics as well. Again, the still small group of authors is the main obstable for now.
Q: How can people interested in this project help?
A: The two main things we need right now are authors from the scientific
community and sponsors. We are of course searching for them, but we would appreciate any help. Projects like this really depend on the body of
people supporting it. If you know someone suitable to provide scientific
content, or someone able to become one of our sponsors, please let us
know. If you enjoy our site, please consider making a small donation. You
can contact us at info@coralscience.org
———————————————————–
This is an exciting and important endeavor, and we will look forward to helping Coral Science in the near future. If you are in a position to share pertinent information, please do so. If there was one take home message that seemed to run throughout the International Coral Reef Symposium, it's that we are in a race against time to unlock the secret lives of corals and reef ecosystems. Clearly, there is no nobler cause than sharing information, and making it accessible to as broad an audience as possible.