Friday, November 13th, 2009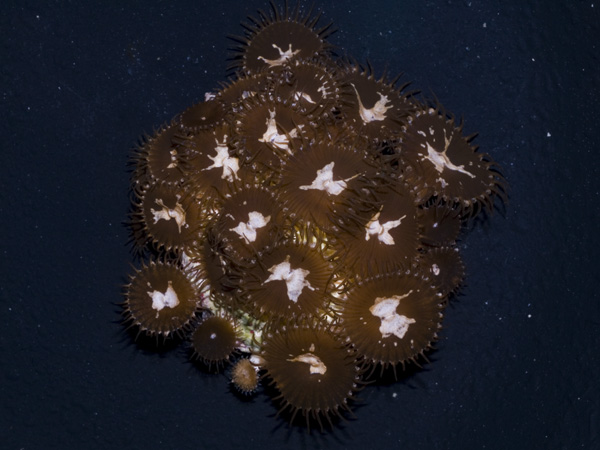 Unidentified 'Butterfly' Palthoas.

Recently while diving off of Key West, I was fortunate to come upon a rare and unidentified species of Palythoa.   This was the first time that I have come upon this type in five years of frequent diving throughout the Florida Keys.  Apparently it is less rare elsewhere in the Caribbean, but as of now has yet to be properly identified by a zoanthid taxonomist.  On its particular patch of reef it was relatively abundant, despite being completely absent in seemingly identical reefs in the surrounding area.  And while it might seem logical that it only takes one lucky zoanthid larvae to ultimately colonize a large area, it seems that there were at least 2 separate morphs cohabiting the area, which makes its  complete absence from other nearby reefs compelling.  And while Caribbean Palythoa display morphologies that seem to overlap, these particular Palythoa have a few traits that make it noticeably distinct:
Small size (1/4″-3/8″ disc diameter)
Translucent oral disc, often with teal-bluish iridescent sheen
Distinctive white splotch, often butterfly shaped
Eyelash-like tentacles
But considering that the morphologies of Caribbean Palythoa species seem to blur together, genetic analysis will be the most reliable way to determine species-hood. Fortunately our friend James Reimer is a zoanthid expert in Japan's Ryuku Islands with access to such equipment and expertise.  In addition to sending him samples of this Palythoa morph, we will also include a variety of other local Palythoa morphs to see just how distinct the individual species are.