Monday, March 23rd, 2009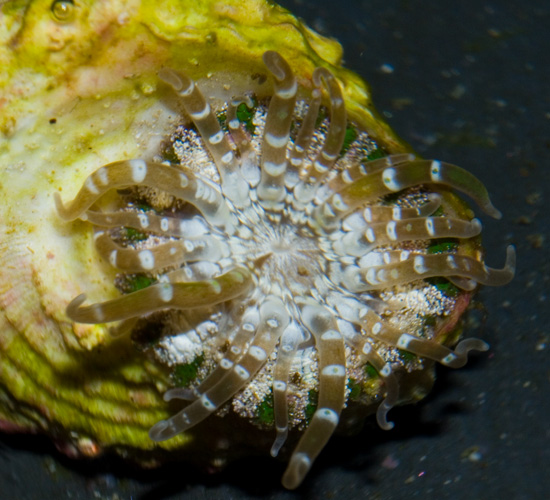 This photograph was taken at night in an aquarium in order to capture the 'mushroom anemone's' tentacles in full expansion.  Within a few moments of being illuminated, this anemone will retract the tentacles back inside of itself. For size reference, the anemone is photographed inside an empty Lithopoma tectum (astrea) snail shell roughly 2cm in length.
The second unidentified anemone that we are featuring is a quite an unusual, shape-shifting creature.     It lives on patch reefs and near-shore, hard-bottom gorgonian/macroalgae habitat from 5-25 feet of depth.  During the day, the anemone only exposes the flat, warty surface of its oral disc, such that it lies flat against the bottom.  It wedges its body into very small holes on the seafloor such that its body is completely protected within rock.  At first glance while passing by one of these anemones, it is very easy to confuse it with local corallimorph Discosoma carlgreni, as their oral discs both have very similar texture, size, and shape.  For this reason we have tentatively dubbed it a 'mushroom anemone'.  We are unsure whether this similarity is a form of mimicry, or simply coincidence.    However, if this anemone is disturbed, it very quickly retracts itself back into its hole with a reaction time that greatly exceeds that of any corallimorph (corallimorphs lack fast-contracting bodily muscles).  It is almost always found solitarily, whereas D. carlgreni is usually found in small colonies of clones.
I had only ever observed this anemone during the daytime while diving, but after collecting one for further examination, we were able to observe it at night in an aquarium.  At night it shows its true anemone side by unfurling a ring of tentacles from inside its mouth.  When lighted, the anemone will retract the tentacles. It appears that it must not feed during the day when its tentacles are withdrawn.  However, the flat oral disc likely serves as a 'solar panel' on which to collect sunlight for the zooxanthellae that are presumably within the tissues.  At night when the power of sunlight is moot, the anemone alternates to predator-mode and uses its tentacles to capture prey.  Not a bad way to collect needed energy supplies over all 24 hours in a day…
This 'mushroom anemone' is a relatively small anemone, reaching only about 4cm in diameter across the oral disc.  It is found in a variety of color morphs.  "Silt grey" (blends into the seafloor perfectly) is the most common coloration, but I have also observed them in solid red, green, and purple morphs.  They are not particularly uncommon in the Florida Keys, but they are very easily overlooked. The pictured specimen is mottled with fluorescent green on grey.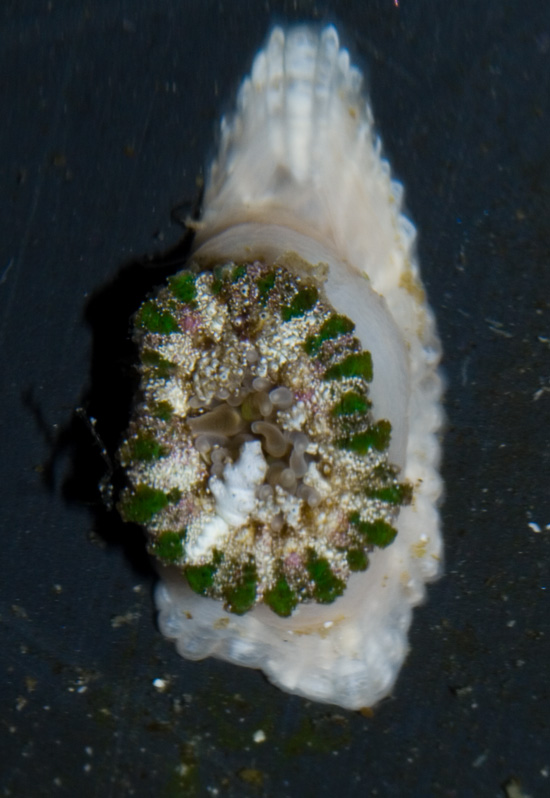 Pictured above is an unidentified 'mushroom anemone' in its daytime appearance. In the wild, you would not be able to see the body or base of this anemone, as it would be protected within a hole in a rock.  A few of the tentacles are still visible within the anemone's mouth, but typicaly they are not at all visible.  The flat, warty surface of the oral disc is very similar in appearance to that of Discosoma carlgreni, a local corallimorph species. This small specimen measures about 20mm in diameter across the oral disc.