Tuesday, April 7th, 2009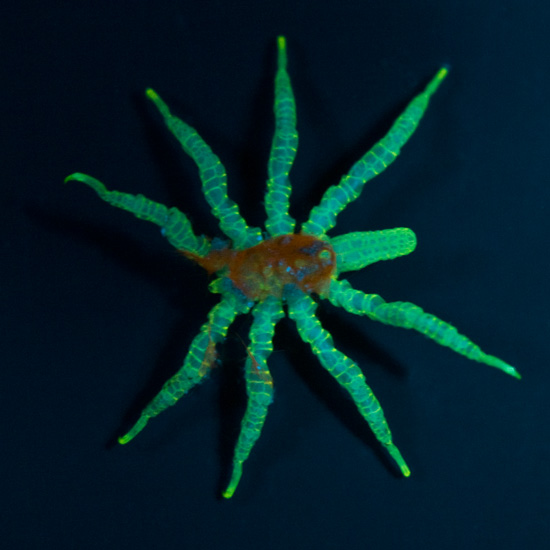 The cephalothorax of this unidentified pycnogonid is covered in wisps of  cyanobacteria (perhaps as camouflage) which itself fluoresces orange-red. This specimen measures about 1 cm in diameter. Fluorescence photograph.
It is amazing the wide variety of sea creatures that demonstrate fluorescence. Animals that you would never suspect to "glow" do just that when illuminated with the proper wavelength light.  For the past several years I have been using an underwater flashlight that I custom outfitted with 470nm blue LEDs in order to be able to scan for glowing creatures in the darkness. This pycnogonid sea spider (not an arachnid) is a prime example of an unexpected lifeform displaying an ability to fluoresce.  The "spider web"-like pattern of fluorescence over this specimen is truly impressive.
Pycnogonids, commonly known as "sea spiders" are rarely seen in the wild (but not necessarily rare), and are an unusual class of arthropod.   Most are very small (<1cm), and hence overlooked.  However, in the Antarctic there are some monsters that can grow up to 90cm (Pycnogonaphobia?)! One of their most distinctive features is that they possess a proboscis (a drinking straw if you will) that allows them to suck out fluids from soft-bodied invertebrates such as corals, anemones, and corallimorphs. In the wild they rarely do lasting damage to their prey.  However within the confines of an aquarium I could imagine that this might not be the case where their selection of hosts is limited.  As such, they should be regarded as potential parasites of corals within the aquarium, and removed if detected.  Despite this threat, they don't seem to be widespread pests within the aquarium keeping world.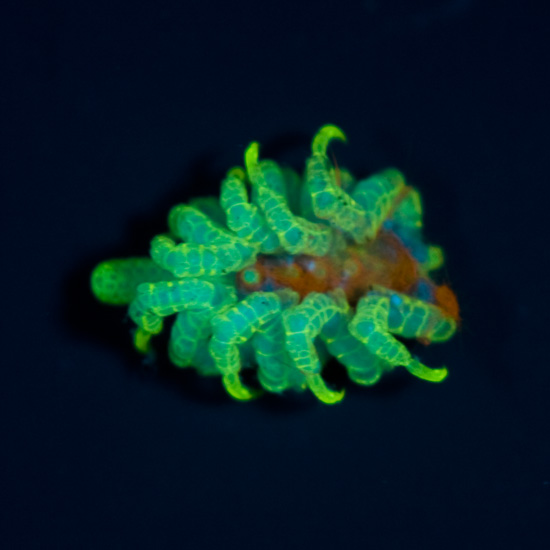 The same pycnogonid specimen in a defensive posture after being prodded "into position" for photography.