The Endangered Corals of Fisher Island & The Saga of The Deep Dredge (Pt. 1 of 3)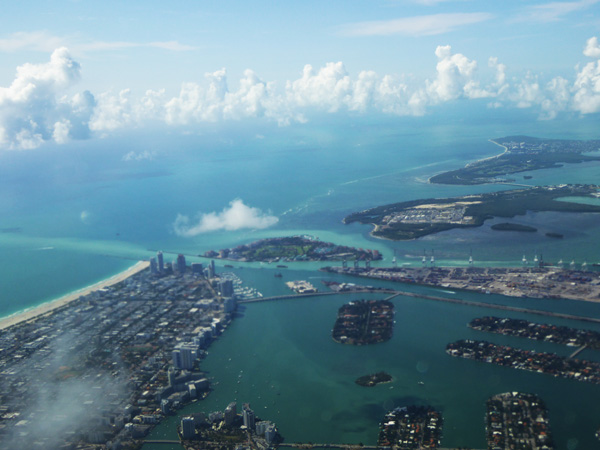 Aerial view of Biscayne Bay and Government Cut. Fisher Island is encircled in the Army Corps' Deep Dredge silt 4/14/15
Over the past eighteen months, the Army Corps of Engineers' Deep Dredge of PortMiami has continuously released dirty water throughout Biscayne Bay and onto our surrounding reefs. The dredging will continue through at least August 2015. Over the course of the Dredge project we have observed levels of suspended silt far beyond what is environmentally acceptable or healthy in a coral reef environment. Silt that is directly causing coral mortality in areas far beyond where the Army Corps predicted.
One of Coral Morphologic's biggest ongoing concerns during the Deep Dredge has been the well-being of a hybrid fused-staghorn coral (Acropora prolifera) colonizing the Fisher Island side of Government Cut. This coral is what kickstarted our interest in documenting the extent of coral colonization within Miami's coastal waterways, and was the subject of Colin's 2011 TEDxMIA talk 'A Hybrid Future: The Corals of Miami'. The concerns we expressed to the State of Florida about this coral is ultimately what led them to provide us with permits to rescue corals from the dredging far offshore… but not for the hybrid itself (or any other corals on Fisher Island).
Colin's 2011 TEDxMIA talk on Hybrid Acropora living within Miami city limits
In addition to this highly unusual hybrid Acropora coral living within the shipping channel, we have found a variety of other Acroporid corals living on a variety of other seawalls encircling Fisher Island. There are at least three colonies of federally-protected Elkhorn corals (Acropora palmata) and 2 different morphotypes of hybrid Acropora prolifera. As far as we know, Coral Morphologic are the only researchers documenting these critically important corals growing along man-made shorelines in Florida.
Typically, elkhorn corals are found miles offshore on the outer reef crest where they receive clean water and strong water movement. Elkhorn corals were once the most important reef-building corals in the Caribbean, and the most effective coral species at dissipating hurricane storm surges for coastal communities. But since the early 1980's more than 95% of the elkhorn populations across the region have succumbed to highly infectious diseases. One such disease, white pox, has even been proven to be a human gut pathogen transmitted to the elkhorn coral via human waste (from leaky septic tanks and offshore piping of sewage). In fact, white pox is the first known pathogen to be transmitted from a human to a marine invertebrate species.
Over the past 5 years we have watched as these colonies of elkhorn coral wax and wane in growth and health. Some years they will show remarkable growth, while another year they lose entire sub-colony branches to white pox. However, over the past year (during the Deep Dredge), we have observed a precipitously steep decline in their health. We now feel that their survival is endangered enough by the accumulating dredge silt that their plight needs to made public, and that their long-term well-being is ensured.
Fisher Island Elkhorn Coral pre-dredge/ mid-dredge health survey
When considering how remarkably resilient these elkhorn corals on Fisher Island are, it should be noted that the Virginia Key Wastewater Treatment Plant sits just a mere ½ mile (760 m) away across Norris Cut. Furthermore, these elkhorn corals are living on the outside of the Fisher Island marina which houses a multitude of luxury yachts… along with the occasional sewage, petroleum, or chemical spill. Despite it being less than a square kilometer in size, luxurious Fisher Island features a 9-hole golf course and lush landscaping indicative of frequent fertilizer use and runoff. The likelihood of the Federally-protected elkhorn coral self-recruiting and growing to adult size in such a manmade environment defies conventional logic when taking all these factors into consideration. Therefore, these particular elkhorn corals on Fisher Island could be invaluable to the scientific understanding of the adaptability, resilience, and restoration potential of such a keystone coral species.
Furthermore, the elkhorn corals of Fisher Island are surviving in an extremely shallow sub-tidal zone where they are subject to direct sunlight and intense UV radiation. At one point in time these colonies were up to 1.5 meters in diameter. What appears now to be multiple independent branches of living elkhorn coral are what remain of a previously contiguous mother colony. Partial die-off of coral colonies presents a dilemma for coral researchers, as it can create the illusion of multiple smaller independent colonies, when actually they are all clones of each other. One upside to having discontiguous colony for research is that a single branch can be removed for transplantation without risking the rest of the colony to a subsequent infection.
In the past year, both of the elkhorn colonies living on the Norris Cut side of Fisher Island have demonstrated significant mortality, and evidence of white pox. Both colonies have undergone approximately 60-70% mortality since the dredging began, but appear to have stabilized during the previous cooler months. Without direct intervention we are concerned that these elkhorn colonies may not survive through summer 2015.
More distressing is the clear evidence of dredge silt that has lethally smothered neighboring brain and star corals that were simply rested horizontally onto boulders when transplanted there by subcontractors hired to replace the Fisher Island seawall facing PortMiami. Upon trying to fan off the silt that was choking these corals, we noticed that many were not even cemented in place as required. Rather, they were simply placed on the flat upper surfaces of the seawall boulders and left to their own devices. Even a small storm (let along a hurricane) can easily flip these unattached corals off their perches and upside down in the sediment. Whoever was paid to transplant these corals did a completely negligent job, and without any regard for the future success and settlement of the corals. An unacceptable number of these corals have already died from dredge sediment stress or simply from being dislodged from their perches. Some accountability is required for the deaths of these corals.
Fisher Island silt-smothered coral survey
Read more about our proposed solution to ensure the future survival of Fisher Island's unique Acropora corals in Part 2.