'Artificial Reef' Retrospective
'Cassiopeia' | 407 Building | Lincoln Road | Miami Beach – Dec. 2-5, 2010
From December 2-5, we presented Artificial Reef, a series of large-scale video projections of corals, on three prominent buildings on Miami Beach. The concept of Artificial Reef was built around the premise that most of Miami's infrastructure is comprised of fossilized coral reef limestone. The purpose of the project, (funded with a generous grant from the Knight Foundation) was to highlight this overlooked relationship of the city of Miami with its coral reefs. Our goal was to recolonize the city with a 'living veneer' of corals encrusted onto the artificial reef that is Miami Beach.
'Cassiopeia' (above) features a Cassiopeia xamachana (aka upside-down jellyfish) jellyfish rhythmically pulsing on the 407 Building overlooking Lincoln Road. Cassiopeia jellyfish are commonly found in shallow, muddy waters near mangroves where they can be found by the tens of thousands. They have a symbiotic relationship with algae living in their tissues that provides them with energy from photosynthesis. Therefore they do not need to hunt for food in the open ocean like most other jellyfish species, and can instead 'sunbathe' upside-down in sheltered locations.
'Helios' | Wolfsonian Museum | Miami Beach – Dec. 2-5, 2010
'Helios' is a nearly symmetrical colony of Tubastrea coccinea collected from an oil rig off the coast of Louisiana where it is an introduced species. It is one of the most successful of all coral species, having invaded the Caribbean in the past century by hitchhiking through the Panama Canal from the Pacific. It prefers colonizing man-made substrates like shipwrecks, dock pilings, and the aforementioned oil rigs.
'Clytie' | Lummus Park | Miami Beach – Dec. 2-5, 2010
'Clytie' is a living mosaic of Floridan Zoanthus sp. zoanthids encrusted on a limestone tile. The time-lapse projection (20'x10′) was thrown on the fossilized coral limestone (Keystone) wall of the Art Deco Welcome Center. These photosynthetic, intertidal animals would colonize this wall in a similar fashion if it were re-submerged beneath the waves.
We held the reception for Artificial Reef in the Art Deco Welcome Center on Ocean Drive. The gallery featured four high-definition screens displaying loops of our videos, along with a selection of fluorescent photography Zoanthus sp. portraits from our Flower Animal series. In the multi-media room, we projected 'Carpet Morphology', a time-lapse loop of a variety of Ricordea florida color morphs undulating on the 18' screen (photo below). At the reception a collage of our videos curated by artist Jamie Harley was projected onto the musical groups Sumsun and ANR while they performed live "aquatic soundscapes". The performances were spectacular; we will be posting edited videos in the near future. A huge Thank You goes out to all who collaborated and helped us out with Artificial Reef.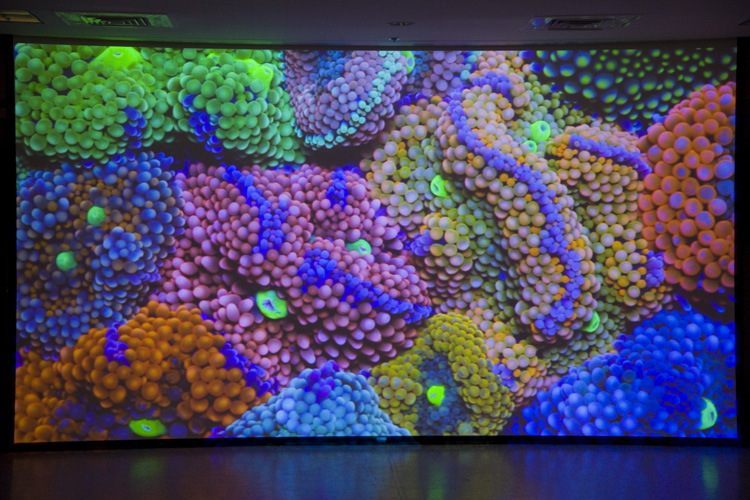 'Carpet Morphology'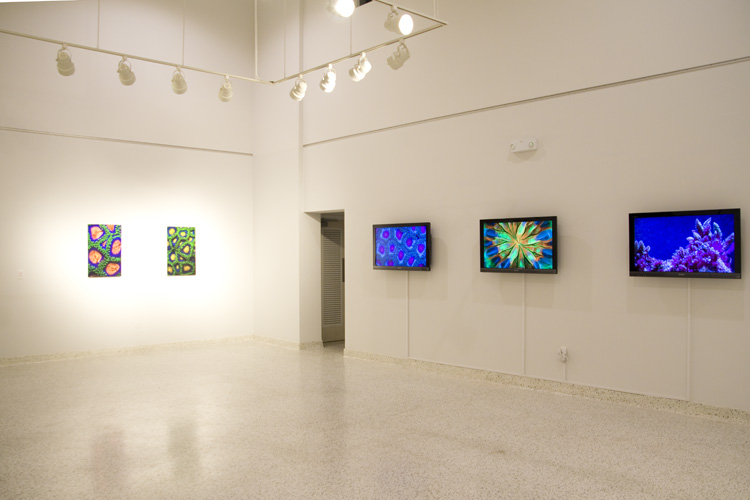 Selections from Flower Animal & Video loops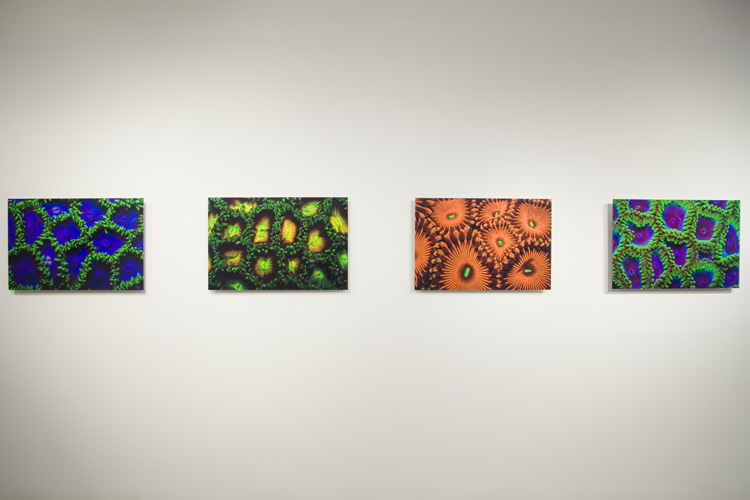 Selections from Flower Animal